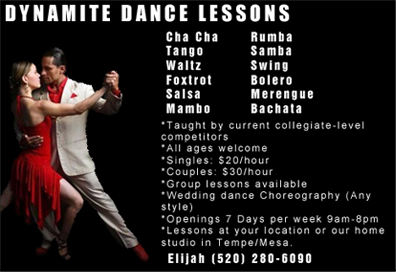 Dance Lessons? Yes! Our staff is experienced in teaching and performing many styles of Ballroom and Latin dancing! In addition to DJ Services, we offer affordable dance lessons any style of your choice:
Hiring DJ Dynamite for your Wedding? Add-on a group dance lesson for only $60.00!!
Imagine how unique your Wedding reception would be if all of your family and friends can say that not only did they have a great time dancing the night away, but they actually learned how to dance Salsa, or Foxtrot just like they do on Dancing with the Stars. The lessons are taught in about 30 minutes, and they usually take place during the cocktail hour or immediately after dinner.
Here are just a few of the most popular dances we offer:
Cha Cha
Jitterbug
Salsa
Foxtrot
Country 2-Step
Line Dances – Electric Slide, Cupid Shuffle, The Wobble, The Hustle and many more!
The dance lesson acts as a great icebreaker and is a perfect way for your guests to get to know each other while learning a new dance together. Guaranteed your guests will talk about your Wedding for years to come!